The friends in the new world of online mattresses are many: Casper, Leesa, Yoga, Tuft, FIN14, Eve, Bear. All provide a mattress at a great value, with much better prices and quality than you will find at the local retailer & way more hassle free to order. Who wants to spend time in a mattress store anyway? Awkwardly lying on top with an overly eager salesperson, somewhat knowledgeable, more often not, hovering close by.
Free shipping, excellent service, decent in home trials with free returns are the new normal. We highly recommend you take advantage of the convenience of online mattress shopping – it's risk free.
We also highly recommend you consider FIN14 for your next mattress…..Read-on.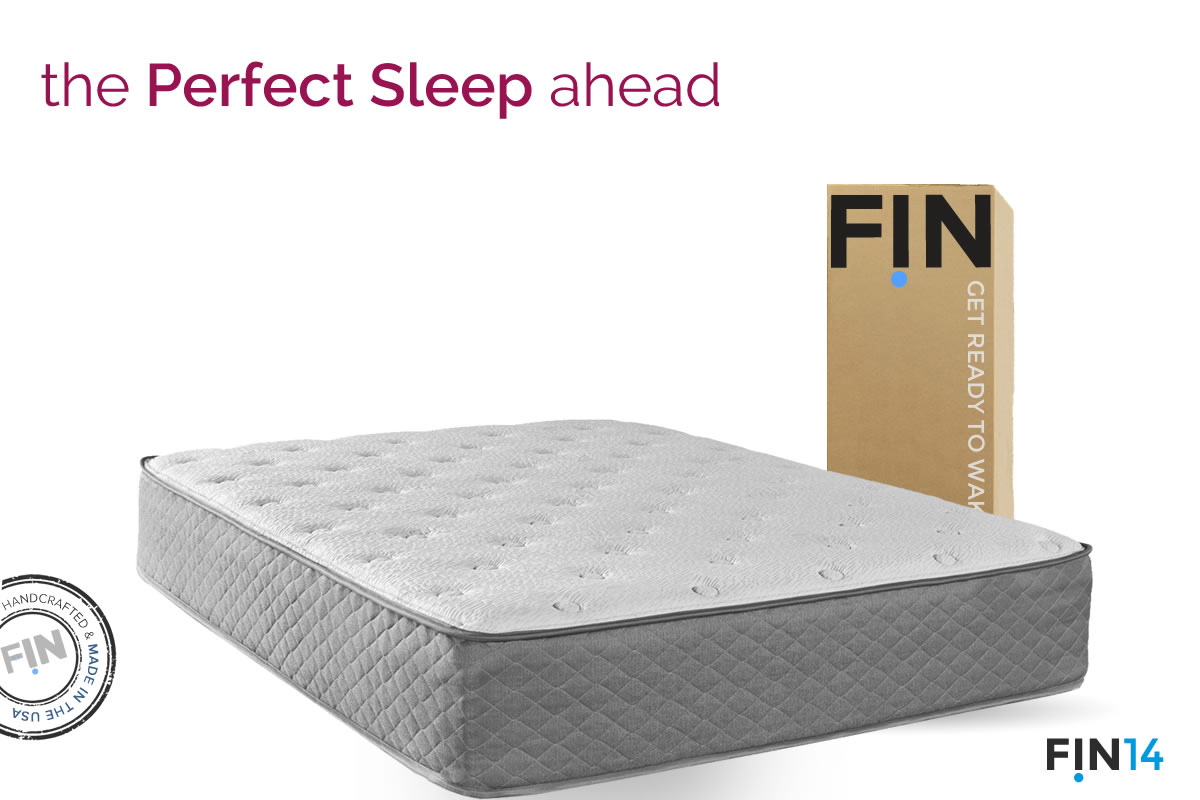 1. FIN Mattress is one of the most comfortable of all the online mattresses. HOORAY! close competition to Casper, but a little bit better. With over 300,000 Caspers sold, we think a lot of people will find FIN14 even more awesome. The FIN14 has the right amount of hugs, bounce, coolness and support.
2. FIN mattresses have only high quality USA sourced materials. Latex, cooler gel infused memory foam – fantastic in the comfort department with excellent support. Keep in mind, some less expensive foam mattress have materials from Asia where quality control and use of chemicals can be an issue.
3. FIN mattresses are made in a factory that has been hand making mattresses for over 50 years and is independently owned. We know the owner, giving us access and input into the process. We work closely with mattress industry experts to design the best possible. The FIN mattresses are hand made to order with American pride and shipped conveniently in 7-10 working days.
4. We take our customers seriously and over-deliver on our promises. But we don't take ourselves too seriously. We think mattress shopping should be a fun experience, not boring. Rather than spending money on fancy advertising and celebrities, we use those funds to create the best mattress and delight you with surprises, great prices and amazing service. We know quality sleep is important to health, productivity and a positive attitude, so most of all we want you to Sleep Happy. Wake Up Happy.
So be a little bit silly with us while you buy a mattress, we will try to keep you entertained. We think you will experience the best sleep ever on a FIN mattress, but if not — lets stay friends, we will take back the mattresses (hopefully finding a charity home) and return your money.
We love conversations, so reach out and ask, comment or share your stories – we're listening. Stay in touch, we publish Backstories twice a week with interesting news about startup founders and how they use a good nights sleep to power their companies, wellness, fitness, sleep, food, travel, exercise and much more.