Commit to something big this year...
And jump-start your effort with a visit to Blackberry Farm in the Smoky Hills of Tennessee. There is no better place to get ready to start. Visits are relaxful, energizing and revitalizing and the experience is about making changes that you take home with you. Dining is its own event, serving award winning Foothills Cuisine®. When you have to leave, you probably won't want to, – buy the cookbook and some of the goodies at the store and start dreaming (planning) your return.
Rates include nightly accommodations, pantry snacks and three meals per day of our celebrated Foothills Cuisine®. from $895 per night, double occupancy.
Exquisite Cuisine - tastes good and good for you
Want to eat well before arriving? Don't miss the cook book Buy it here >>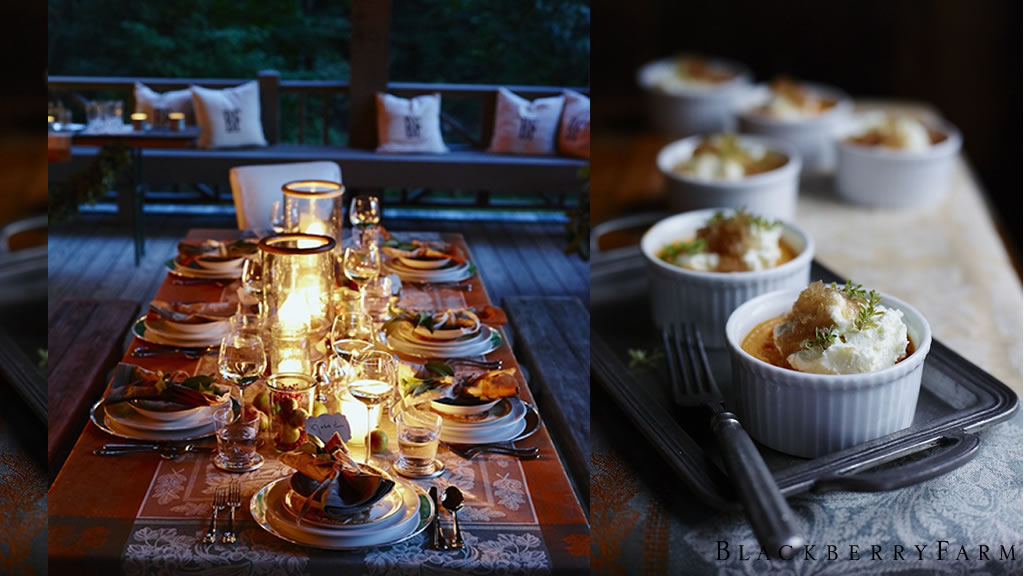 enjoy Blackberry Farm's Wellness Events
Enjoy complimentary wellness classes, juice tastings, and special workshops on skincare, wellness, gardening, and yoga! Get a jump on spring with a personal discovery journey into the world of well-being.
Did you know that meditation has been proven to lower blood pressure, increase mental focus and reduce muscular tension? Blackberry Farm's yoga and meditation classes are designed to help you practice mindfulness and discover its many health benefits. Start your wellness plan during your visit.
The WELLHOUSE located on the farm offers outrageously wonderful spa treatments for guys and girls alike
SOUTHERN SORGHUM BEAUTIFYING BODY WRAP
Experience the all-natural benefits of sorghum—and other potent anti-agers—in this farm-to-treatment table body wrap. This deeply relaxing and fragrant body treatment firms, brightens and hydrates the body's largest organ: the skin.
This option sounds good – what the heck is sorghum? Who cares! This is the stuff of legends.
Did you know fit is part of wellness? And that wellness is fun and life-giving? Try these out during your stay.
CARDIO-CORE CIRCUIT
With help, you create the perfect workout with your choice of cardio equipment, personalized timed intervals and targeted core conditioning
BLACKBERRY FIT
Breathe fresh mountain air and take a short break as you workout around the property, stopping at outdoor fitness stations for timed intervals.